Projets Hughes Germain



Two Phases of Burkina-Faso


(previously on kalerne.net)

Hughes Germain, field recordist, sound artist and composer, is currently working in Burkina Faso,
with dancer Salia Sanou in French Cultural Center of Bobodioulasso.
He's sharing here two phonographies that are related to some phase-shifting phenomena...
No edit, cut, mixs. Raw recordings.

Hughes Germain, preneur de son, artiste sonore et compositeur travaille actuellement au Burkina Faso,
avec Salia Sanou (danse) au Centre Culturel Français de Bobodioulasso.
Il nous propose deux phonographies en lien avec des phénomènes de décalage de phase...
Pas de coupes, de montages, de mixages. Enregistrements bruts.





Bazin phaze

9mn35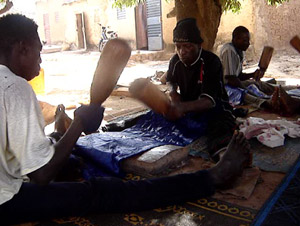 We climb down amongst houses made of earth, close to the back-water of Bobodioulasso, in Burkina-Faso.
The men are doing the "Bazin", a kind of strong ironing of clothese, using wax.
The textile takes the aspect of leather (that will disappear with washing) and echoes are propagating in the city.

On descend doucement entre les maisons de terre, près du marigot à Bobodioulasso, au Burkina-Faso.
Les hommes font le Bazin, sorte de repassage musclé, utilisant de la cire.
Le tissu prend l'aspect du cuir (mais ça part au lavage), et les echos se propagent dans la ville.





Bidon phaze (ou la pluie de métal) 4mn06





We climb back slowly near the tar. There, guys are making big metal basins from lids of oil drum.
They are progressively hollowing the surface with hammers, holding and turning the metal with their feet.
They obtain a finish and a shape regularity wich can be compared to the industrial presses.
They surely work above 105 dB, are maybe not vaccinated against tetanos... but they have a job.

On remonte lentement près du goudron. Là, des gars fabriquent de grandes bassines de métal à partir de couvercles de fûts d'huile.
Ils enfoncent progressivement la surface au marteau, en tenant et en faisant tourner le métal avec leurs pieds.
Ils obtiennent une finition et une régularité de forme qui n'ont rien à envier aux presses industrielles.
Ils travaillent sûrement au dessus de 105dB, et ne sont peut être pas vaccinés contre le tétanos... mais ils ont un boulot.